Despite the tragic death of series star Paul Walker in a car crash back in November 2013, 'Furious 7', the seventh (yes, seventh) film in the 'Fast and the Furious' series hits theaters this week. Seriously, who would've ever thought that a film series that's primarily about driving cars and ridiculous stunts would be successful enough to produce seven films? Most film franchises never get that far and even if they did, the films would really start to get bad after a while. But it's surprisingly the opposite case with 'The Fast and the Furious' films; they've actually gotten better as the series has gone on. I'll admit that I never really paid much attention to the franchise during its early years. The only major element of it that was I familiar with at the time was the multiple arcade game spin-offs, including the original 'Fast and the Furious' arcade game and its many follow-ups, including one for 'Tokyo Drift' and two 'Super Bikes' games that in hindsight don't really connect to the series that much at all; hell, the second game doesn't even carry the film series license. But anyway, I digress. I remember that it was after watching the Super Bowl commercial for the fourth film that I actually started to become interested in the franchise. I didn't see the fourth film in theaters but I did watch it on HBO and since then… I have to admit I've actually become a fairly big fan of the franchise. So today, in honor of the seventh film's release and in memory of Paul Walker, I'm looking back upon this beast of a franchise, from its humbler beginnings to its more recent bigger-scaled efforts. It's time to 'Ride or Die' as we look at the 'Fast and the Furious' films.
THE FAST AND THE FURIOUS (2001)
As someone who was first introduced to the franchise through its later installments, I must say that it's fairly interesting to see how far 'Fast and Furious' has come since it first started 14 years ago. Like with the 'Harry Potter' franchise, this is definitely a case where the series definitely got better over time. That isn't to say that 'The Fast and the Furious' isn't entertaining; it has a nice energetic pace that perfectly matches the, for lack of a better term, fast nature of the story and a lot of the car stunt sequences are pretty good. But with that said, you still have to admit that the film is a definite case of style over substance. Sure, this film's not completely brain-less as there are some actual/legitimate bits of character development here, namely between the main characters, street racer/criminal Dominic Toretto and undercover cop Brian O'Connor, and Vin Diesel and Paul Walker work off each other really well. But suffice it to say this is not a movie that you go into expecting great writing. In fact, as many people have already pointed out, this is basically just the street racing clone of 'Point Break'. Despite this, the first 'Fast and the Furious' film is still a fairly entertaining popcorn flick even if, in some cases, it's become a little dated. Ultimately, though, it would take some time (about a decade to be specific) before this series really started to shine.
Rating: 3.5/5
2 FAST 2 FURIOUS (2003)
First I'll give you a few seconds to laugh at that hilariously ridiculous title… done? Okay, moving on… so now we come to the second film in the series, this one being directed by John Singleton, who had previously been nominated for two Oscars for his work on his 1991 film 'Boyz n the Hood'. As for '2 Fast 2 Furious', however, unfortunately it ends up being the weakest entry in the franchise. Now despite what I just said, that doesn't mean the film isn't entertaining, because it is. Once again, a lot of the car stunts are really cool, especially the first highway chase and the scene near the end involving a whole mob of cars coming out of one warehouse. Leads Paul Walker and Tyrese Gibson have nice camaraderie with one another, with Gibson in particular being a real stand-out due to his great comedic ability which was put to even greater use in future films. Ultimately though, '2 Fast 2 Furious' suffers from some fairly mediocre writing. Now to be fair, these films have never been known for their writing anyway but here it ends up being rather dull and generic, with a mediocre anti-climax and a generic villain. Plus, something I didn't mention in my review of the first film is that both of these films have some rather poor/obvious CGI used during some of the racing scenes, namely during close-up shots of the drivers. Thankfully, this was improved upon in future installments. '2 Fast 2 Furious', ultimately, is my least favorite entry in the franchise. I don't think it's bad, but like I said earlier, we still haven't gotten to the series' best installments yet.
Rating: 3/5
THE FAST AND THE FURIOUS: TOKYO DRIFT (2006)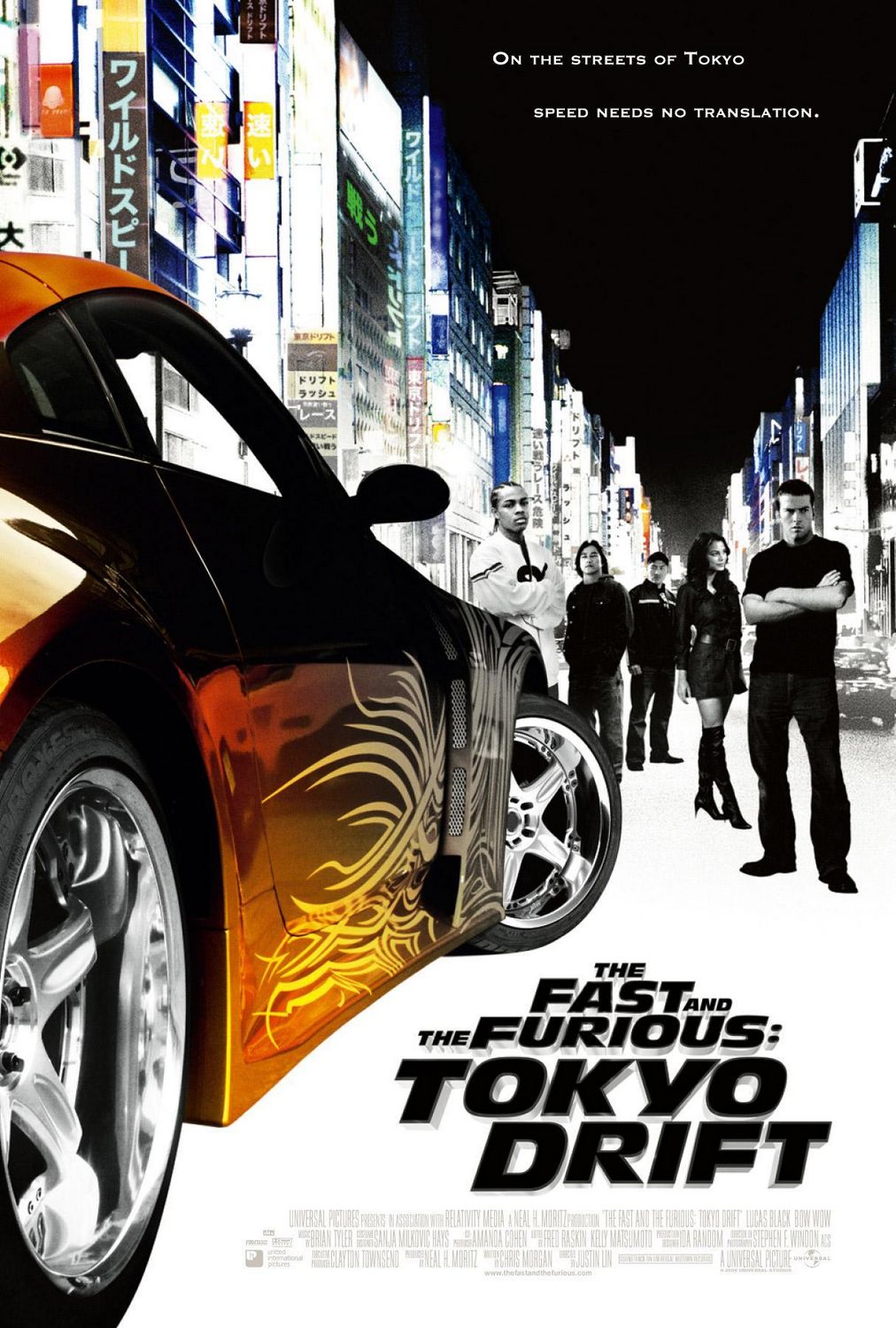 After the first film which featured all four of the series' main group of leads and the second film which only featured one of them, now we have 'Tokyo Drift', the only entry in the 'Fast and Furious' series not to have any of the main leads of the series appear in a major role, save for a pretty awesome cameo by Vin Diesel at the end. Because of this, 'Tokyo Drift' has basically been regarded as the most forgotten entry in the series, made even more evident by the fact that it's the lowest-grossing entry of the series at the box office. But… it's actually the most underrated of the series and, dare I say, I have to agree with my friend Augie in that I think this is even better than the first film. Sure, this film may not have Vin Diesel or Paul Walker but its cast gets through it pretty darn well without them. Plus, like with '2 Fast 2 Furious', this film does give us another standout character that would later become a major character in future films, in this case Han (Sung Kang), despite the fact that he actually dies during the events of this film. So why does he come back in later films? Well that's because, despite the fact that this was the third film released chronologically, it actually takes place after the events of the fourth, fifth, and sixth films, hence why Han appears in those films. 'Furious 7' will be the first film in the series set after the events of this film. Yeah… wrap your head around that one.
So what's the main reason as to why this film works so well? It's because of director Justin Lin, this being the first entry in the series that he directed. He gives the series a much needed boost in quality in terms of direction while also giving the series an edge that, in some cases, the last two films sort of lacked. This film also has the added benefit of being set in a cool locale, Tokyo, meaning that this film does manage to stand out even without the main leads in it thanks to its great visual look. The whole concept of 'drifting', which is pretty cool, really lends itself well to the fun action sequences that you've now come to expect from this franchise. So overall, 'Tokyo Drift' is the one entry in the series that really deserves more attention than it currently gets. If anything, you shouldn't ignore this entry in the series just because Vin Diesel and Paul Walker aren't in it. Sure, it may not necessarily be one of the series' best, but it's still really entertaining. This was the first entry of the series that really showed promise that the series could improve and you can thank Justin Lin for that as he managed to make an incredibly memorable 'Fast and Furious' film without any of the series' main leads. But this would set the stage for those leads to make one heck of a return to the franchise they helped start in the first place.
Rating: 3.5/5
FAST AND FURIOUS (2009)
After nearly a decade since the first film's release back in 2001, the main four leads of the franchise; Diesel, Walker, Michelle Rodriguez, and Jordana Brewster all reunited for a new film in the franchise, 'Fast and Furious', the second entry in the series to be directed by Justin Lin. But unlike the following two entries in this series, 'Fast and Furious' has been the least successful of the series in terms of critical response despite its commercial success at the box office. It only has a 27% score on Rotten Tomatoes… but overall I disagree with that rating. This is my third favorite entry in the series to date and I as noted in the intro, this was the first 'Fast and Furious' film that I ever saw, albeit on TV, not in theaters. This of course was after I had watched the Super Bowl commercial for the film, the first time that I really began to show interest in the franchise having initially not paid any attention towards it during its initial run. Overall I view it as being similar to the first film but with much stronger direction. Like I said before, Justin Lin gave the series new life and now with this fourth film, it has really started to shine thanks to the return of the main cast after they didn't play a major part in the second and third films. So with that said, why then is this one not as liked by a lot of people? Well, from what I can tell, it's because they feel the movie is 'too serious' for a 'Fast and Furious' film. And for the record I do see where they're coming from.


The plot of this film revolves around Dom returning home to LA after learning that his girlfriend Letty (Rodriguez) has been 'murdered' (I use the term loosely because, well, you'll see why when I start talking about the sixth film), looking for revenge against those who were responsible. This results in him crossing paths once again with Brian, who's going after the same people for the FBI. Last year's 'Need for Speed' was a similar situation, being more serious than both it needed to be and quite frankly what it was capable of being given its premise of street racing. But here, I didn't mind too much when the film got serious because I do feel that there was some legitimate motivation for Dom and Brian to stop the villains unlike with previous villains in the franchise. Besides, there's still a lot of awesome car stunts, from the opening tanker sequence in the Dominican Republic to the final chase scene taking place in the underground tunnels between Mexico and the U.S., though in the case of the latter, I am aware that there was definitely a lot of CGI used in that sequence, even though for the most part it at least looks a little better than it did in the first two films. Regardless, this is still a 'Fast and Furious' movie; it's silly and over the top but still really fun to watch. Now that the main cast was back, it was time for the series to go off in a new direction which ended up taking us all very much by surprise.


Rating: 4/5


FAST FIVE (2011)
I think it's safe to say that we were all surprised when we saw that this film, the fifth entry in a series that was more successful with audiences than it was with critics, was actually getting really great reviews from critics. It has a 77% rating on RT, way higher than any of the previous four films (which were rated 53%, 36% twice, and 27%, respectively). And suffice it to say… they're right. At the time of its release, 'Fast Five' immediately made a name for itself as the best entry in the series. It achieved that by making the radical move of straying from the formula that had defined the series since the beginning though ultimately it ended up being the right move. Instead of its focus being on street racing, 'Fast Five' opts for a heist storyline a la 'Ocean's Eleven' and 'The Italian Job'. Seriously, there's only one 'street race' in this entire film and they don't even show it happening; they cut away from it before it starts. The second major change is that, unlike the previous films which only centered around 2-4 characters at a time, this is the first in the series to have a true ensemble as the film reunites Dom and Brian with nearly all of their primary allies from the previous films; Roman (Tyrese Gibson), Han, Gisele (Gal Gadot), Tej (Ludacris), etc… And third, and most importantly, there's 'The Rock'.


Yes folks, the addition of Dwayne Johnson in the role of DSS agent Luke Hobbs, who's out to catch Dom and his crew, is quite frankly the best thing that could have ever happened to this series. Johnson really stands out amongst the members of the cast in what is simply a stand-out role. But with that said, this is probably the first entry in the series where the cast in general really shines. A key theme of the whole series has been 'family' and you really do see that with this cast as proven by their excellent camaraderie with each other. The action sequences are much more fluid than earlier films and of course, we got more fun and, in some cases, insane action sequences to enjoy. There's the opening scene where Brian and Mia break Dom out of a prison bus, there's the first fight between Dom and Hobbs, and who can forget the scene where Dom and Brian literally drag a frigging safe through the streets of Rio. And yes, at this point, the series has really begun to defy all sorts of physics but with Lin's solid direction, a terrific cast, and most importantly a real sense of fun, 'Fast Five' easily stands out amongst the six 'Fast and Furious' films that have come out. Again, who would've ever thought that at the time of its release, the fifth film in this series would ultimately end up being the best up to that point?


Rating: 4.5/5


FAST AND FURIOUS 6 (2013)
For my original review of the film posted on May 23, 2013, click the link provided below;
At this point, I think it's safe to say that this series has now realized exactly what it is; it knows it's silly and over-the-top and it doesn't care. It just rolls with it and doesn't try to be something it's not. That's the best way I can describe 'Fast and Furious 6'; it's ridiculous, fast-paced, and it keeps defying physics with every action sequence it does. Plus, this film pulls quite the heck of a retcon by having it be revealed that Letty survived the events of the fourth film, albeit being affected with amnesia in the process. But it's still just so damn entertaining to watch. The same positives that I noted for 'Fast Five' are once again present here; a terrific ensemble cast that has terrific camaraderie, another batch of awesome action sequences (the tank chase, that fancy flip car, the whole finale on the world's longest runway involving a crashing plane, etc…), and so on and so on. But at the same time, there are some things in this film that I feel actually do improve on the previous film. For one thing, this film has quite frankly the best villain of the series to date in the form of Luke Evans' Owen Shaw. His whole philosophy of regarding the members of his crew as 'expendable' is a cool contrast to the 'family' dynamic of Dom's crew. Another great addition to the cast is Gina Carano as Hobbs' assistant Riley. Her fight scenes with Rodriguez are some of the most badass moments in the entire film. Because of 'Fast Five', this was the first entry in the series that I was really anticipating and sure enough it did not disappoint in the slightest. In fact, this in, is my opinion, the best 'Fast and Furious' film to date.


Rating: 4.5/5


Ranking time!


6. 2 Fast 2 Furious


5. The Fast and the Furious


4. The Fast and the Furious: Tokyo Drift


3. Fast and Furious


2. Fast Five
1. Fast and Furious 6