I really have to hand it to Disney in regards to how they have been handling the 'Star Wars' franchise ever since they purchased Lucasfilm from George Lucas in October 2012. This is especially in regards to the directors that they've picked to helm the next few 'Star Wars' films. Back in January 2013, I released a post in which I expressed much excitement over the news that one of my favorite directors working today, J.J. Abrams, was hired to direct the first new Disney-produced 'Star Wars' film, 'Episode VII'. And just a few months ago I did another post where I praised the cast that they've picked, one that consisted of both returning members of the franchise and some very promising new additions including the likes of Andy Serkis, Oscar Isaac, and John Boyega. Now of course, those two posts were mostly based on speculation and we're still more than a year away from the release of the film. However, it looks like Abrams won't be returning to direct the rest of the 'sequel trilogy' which is sad but at the same time I don't really blame him because I can understand if he doesn't want to spend the next few years of his life just working on these 'Star Wars' films. And besides, Disney did find a really great director to follow in Abrams' immediate footsteps. It was recently announced that Rian Johnson ('Looper') was hired to direct 'Episode VIII' and he will also be writing a treatment for 'Episode IX'. Of his films, I've only seen 'Looper' but that is such a great film that I don't think that I really need any more proof that Johnson is a great choice to direct a 'Star Wars' film… that and he also directed the best episode of 'Breaking Bad', 'Ozymandias' so yeah, I'm already convinced.
But those aren't the only 'Star Wars' films that we will be getting in the next few years as it was also revealed, around the time that Abrams was hired to direct 'Episode VII', that a couple of spin-off films were in development. These spin-offs, which are expected to be released between the official sequel trilogy films, are not intended to cross-over with the main trilogy but they will still be a part of the 'Star Wars' universe. Recently, Disney has revealed two of the directors that they've hired to helm their own spin-off films. Gareth Edwards, fresh off of the 'Godzilla' reboot, will be helming the first spin-off, currently set for a December 2016 release date. Just a few weeks after this announcement, Josh Trank, director of the excellent found-footage film 'Chronicle' was hired for the second spin-off. At this time, it has not been officially confirmed as to what films these two are doing which has led to a lot of speculation in regards to which characters are possibly getting their own spin-offs. I've been speculating as well because quite frankly I am really excited at the prospect of seeing a new 'Star Wars' film every year. So with that in mind, today I'll be doing my own list of the Top 5 'Star Wars' spin-off films that I personally want to see. I will be focusing on certain characters and not on any storylines from the Expanded Universe, and on that note this is mostly going to be characters from the films themselves and not really any characters from the Expanded Universe (e.g. books, video-games, comics, etc…). I do apologize in advance for this but for the most part I'm fairly unfamiliar with most of that material. So, without further ado, let's get started with my Number 5 choice for a possible 'Star Wars' spin-off film.
5. OBI-WAN KENOBI
I've noted before that I'm not as critical on the prequel films as pretty much everyone else in the world is. Now for the record I do agree that the original films are way better in every sense of the word but at the same time I feel like the prequels, although certainly flawed, aren't really 'that bad'. One of the highlights of the prequels was easily Ewan McGregor as young Obi-Wan Kenobi. While most of the prequel cast was either wasted or, more commonly, rather weak in regards to their performances, McGregor was easily the best actor in the entire trilogy managing to get around the silly dialogue, even though the character didn't really get that much to do (especially in the first film). I've seen quite a lot of people give their opinions on how the prequels could've been fixed, and one of the 'solutions' that they thought up was to have Obi-Wan be the official main character of the trilogy just like Luke Skywalker was in the original trilogy and while I'm not certain how much this would've actually helped fix the prequels, I definitely agree that this would've certainly been a step in the right direction.
Because of that, shall we say, 'lost opportunity', I am pretty interested in seeing a spin-off film from Obi-Wan's perspective and it could possibly be done in two different ways. One of the ways could focus on his origins. What's his back-story? How did he meet up with Qui-Gon Jinn and become his Padawan? Or perhaps maybe they can focus on the time he spent on Tatooine after the events of 'Revenge of the Sith' and before all that happens in 'A New Hope' before he became known as 'Ben Kenobi'. Not only that, but this scenario could also let us see how much he was affected by the whole situation of his Padawan/Friend Anakin Skywalker turning to the Dark Side and becoming Darth Vader. In other words, how will Obi-Wan try and deal with his greatest failure? Now the reason why this is only Number 5 for me is because being that he was one of the main characters of the prequels, I'm not really sure how likely it is that he will be one of the characters that are being considered right now for a spin-off film and if it is made, will Ewan McGregor return to the role? Hopefully he will, but regardless of whether or not that will happen, if they ever did do an Obi-Wan spin-off, I would be interested in seeing it.
4. A MOVIE SET IN THE 'OLD REPUBLIC' ERA
Okay, I'm sort of cheating here by focusing more on an era of the Star Wars universe than an actual character, but I'm pretty sure I'm not the only one who wants to see an 'Old Republic' movie. Now I just want to note that I actually haven't played either of the two 'Knights of the Old Republic' games or the 'Old Republic' MMORPG though I do own the first two games on Steam and I did create an account for the 'Old Republic' MMO but I haven't used it yet. Still, I'm really interested in seeing some of the storylines from this era which, if you're not familiar with it, takes place about 3,000 years before any of the events of the prequel trilogy. In 'Episode I: The Phantom Menace', it is established that the Jedi believe that the Sith have been extinct for a long time which means that there clearly must have been quite a lot of Sith Lords that were around during the 'Old Republic' era (again keep in mind this is from the perspective of someone who hasn't played the games so I'm not too familiar with any of the storylines of that time period) so because of that, I really want to see an 'Old Republic' era movie be made sometime in the near future. Make it happen, Disney!
3. EMPEROR PALPATINE
One of the best characters in the entire 'Star Wars' franchise has to be Emperor Palpatine. Set up perfectly in the original trilogy, the Emperor was certainly an unforgettable menacing villain in 'Return of the Jedi' but also a character that was shrouded in mystery. As for his role in the prequels, it's safe to say that Ian McDiarmid's performance in the role was one of the best elements of the prequel trilogy, even though in Episode III he was quite over-the-top at times. It was still entertaining but he did come off as being very hammy once he truly became the Emperor. Still, I'd love to see an 'Emperor Palpatine' spin-off film. This is another character whose backstory I'm really interested in seeing. We already know that he was once a senator on Naboo before he became the Supreme Chancellor of the Galactic Republic but there's one major question that has been, for the most part, left unanswered and that is in regards to his fateful turn to the Dark Side and how it happened. Was he always a bad guy? Was he once a good guy who become 'seduced by the Dark Side' like Anakin Skywalker was? From the perspective of someone who, again, isn't familiar with a lot of the 'Expanded Universe' material, which I'm guessing explains all of this, this is a story that I'd love to see unfold on the big screen. If this film happens, I'm pretty sure that they'll probably recast the role but who knows, maybe McDiarmid can make a cameo appearance in it. After all, it was once reported that he was to appear in 'Episode VII' even though the character was killed off in 'Jedi'. Of course, that was later proven false but I'd love to see McDiarmid reprise the role at least one more time in a movie and I'm certain a Palpatine spin-off would be the best place to make that cameo.
2. DARTH MAUL
There's one very specific reason as to why I chose these next two characters that I feel deserve their own spinoffs and that is because of 'wasted opportunities'. First off, we have Darth Maul, one of the main villains of 'Episode I: The Phantom Menace'. It's safe to say that his role in the film was built up quite a lot (a close-up of his face dominates the upper half of the original poster) and, like the Emperor in 'Return of the Jedi', his character's backstory was pretty much completely shrouded in mystery. Plus, he even ends up killing one of the main characters, Qui-Gon… and then Obi-Wan then proceeds to slice him in half and that's the last we ever see of him in the prequels. Earlier, I noted that some feel that Obi-Wan should've been the main character in the prequel trilogy and there are also some who believe that Darth Maul should've been the 'Darth Vader' of the prequel trilogy in that he isn't the main villain of the trilogy but is more of a rival to Obi-Wan, which would make sense seeing how he killed his master. Now I am aware that Darth Maul did appear in the computer-animated 'Clone Wars' TV series, which was set after the events of Episode I, and that there was some mentions of his back-story but I didn't really see any of the episodes that he appeared in so because of that, I think that Darth Maul deserves his own spin-off film. After all, he's become such a popular character amongst fans and that's saying a lot considering how the character was kind of screwed over in Episode I… then again, the same scenario also applies to my Number 1 pick as well…
But first, before I get to Number 1, I'm going just throw out two honorable mentions:
My first honorable mention is Lando Calrissian, mostly because he was certainly one of the coolest characters in the original trilogy and I'm interested in seeing his back-story, most specifically his relationship with Han Solo. The second honorable mention I'm going to throw out is Yoda, which could be a difficult one to do seeing how at this point Yoda is obviously going to have to be a CGI character, but at the same time he lived to be about 900 years old, so that means that there is quite a lot of material that can be explored with using this character. Going back to what I just said about Lando and his relationship with Han Solo, I know that there have been rumors about a Han Solo spin-off movie but quite frankly I feel like that one is going to be a really tough one to do, mostly because of casting. It's clear that if they did that film, the role of Han Solo is likely going to be re-cast and I'm sorry but it's going to be hard to top Harrison Ford and what he did in the role. Now I'm not saying that it's impossible but if this film is made, the casting of the role is very, very crucial.
1. BOBA FETT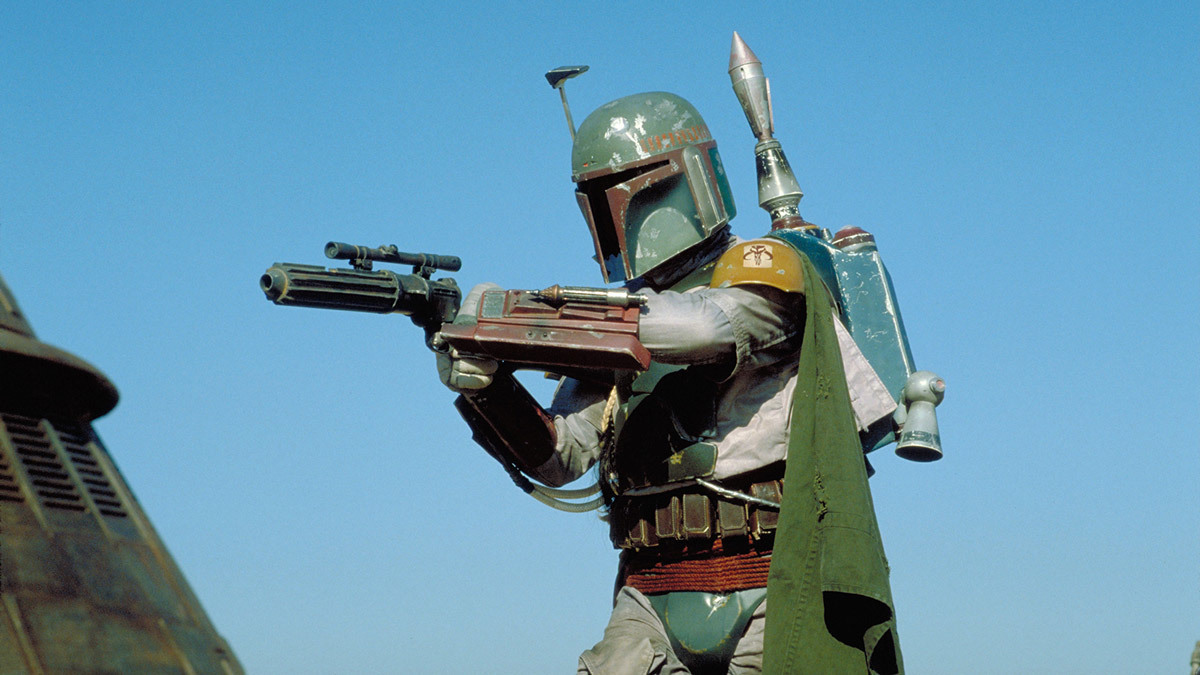 Yeah, I know this one's a bit obvious and it has been rumored that this is the spin-off film that Gareth Edwards is doing but in all seriousness, Boba Fett definitely deserves his own spin-off film regardless of whether or not it is currently in production. Like with Darth Maul, this was another character that became very popular amongst fans despite the fact that his role in the films was actually very limited. He first appears in 'Episode V' (and yes, I know that he first appeared in the infamous 'Holiday Special' but for now I'm focusing on the movies… plus we'll ignore the scene in 'A New Hope' that was added into the Special Edition in which he makes a brief appearance) as this mysterious bounty hunter hired by Darth Vader to track down the Millennium Falcon after it escapes the Empire's grasp following the Battle of Hoth. Here was yet another character whose back-story was shrouded in mystery which made him even more menacing and at the end of the film, he succeeds in capturing Han Solo, has him frozen in carbonite, and hands him over to Jabba the Hutt. Then, in Episode VI… he's quickly defeated by Han Solo and is swallowed by the Sarlacc. Once again, a wasted opportunity and I think the character deserves better than that.
In fact, this ties into something that I want to see done in a 'Star Wars' film and that is a storyline centered around the galaxy's bounty hunters. I mean for the most part Boba Fett and his father Jango have been the only major bounty hunters featured in the movies, even though there were some other bounty hunters that appeared briefly in Episode V and I feel that a movie based around that would be really cool. Like I said before back when I did the 'J.J. Abrams directing Episode VII' post, one thing that I really want to see done in these 'Star Wars' movies is that the filmmakers do a greater job at exploring the 'Star Wars' universe and not just copy what had been done before in the previous films. Sure, they can go back to old and familiar locations but I want to see new worlds and new characters and I know that the franchise has done that in other forms of media (e.g. TV shows, video games, etc…) but I'm specifically want to see that happen in the new movies themselves. The way I see it, a movie centered on Boba Fett and the world of the galaxy's most infamous bounty hunters will open the door to plenty of new opportunities but we're still quite some time away from seeing these films, so we'll just have to wait and see.
So those are the Top 5 'Star Wars' spin-off films that I personally want to see, but I'm curious as to what other characters you want to see get their own spin-offs so sound off in the comments with your own picks. Thanks for Reading folks, and may be the force be with you!