Over the years, the James Bond series has had quite a lot of memorable villains, from Auric Goldfinger to Scaramanga to Le Chiffre to Raoul Silva. But a lot of times, these villains have also had some truly unforgettable henchmen, many of which have been some of the toughest opponents that Bond has ever faced due to either how evenly matched or overpowered they are compared to him. Any way you look at it, Bond henchmen are just as equally essential to the Bond formula as the villains they serve under. Now even with that said, the series has actually gone a rather long time without seeing a really iconic main henchmen, especially since Daniel Craig first took on the role of Bond in 2006. It's gotten to the point where two of the main villains of the Craig era, Le Chiffre and Silva, didn't even have a major henchman and the one who did… well, I'll get to that in a second. Thankfully it looks like this will all change with the next Bond film 'Spectre' and the character of Mr. Hinx, played by Dave Bautista, fresh off of his amazing turn as Drax in 'Guardians of the Galaxy'. But for now, to start off Rhode Island Movie Corner's second annual Bond Month, I'll be listing my Top 10 personal favorite Bond henchmen. But before we get to the official list, I'll be starting off with my two Dishonorable Mentions and one Honorable Mention.
DISHONORABLE MENTIONS
ELVIS – QUANTUM OF SOLACE
Pop quiz… do any of you even remember this henchman of Dominic Greene in 'Quantum of Solace'? If you don't then don't worry because I'm right there with you. Dominic Greene was already an incredibly bland villain in the rather lackluster follow-up to 'Casino Royale' to begin with, but his main henchman Elvis was even worse. Literally there's nothing noteworthy about this henchman at all except for the fact that he has a bowl-cut and that it's also apparently a toupee because it falls off when he gets tripped by Agent Fields on the stairs during Greene's party in Bolivia. And he doesn't even have a 'memorable' death either; he just gets blown up during the finale at the desert hotel and that's it. Heck, it even goes by rather quickly due to the film's rather piss-poor editing. I've heard that Mathieu Almaric (Greene) and Anatole Taubman (Elvis) came up with a 'backstory' for the character in which he's Greene's cousin but nothing like that, if it was even how the character was written at all (which it probably wasn't), is ever brought up in the film. It's because of this that Elvis might just be the absolute worst Bond henchman of all-time because he fails to make any sort of impression whatsoever. My other Dishonorable Mention is more memorable than he is. Speaking of which…
KRONSTEEN- FROM RUSSIA WITH LOVE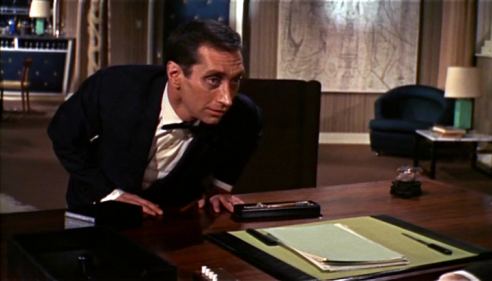 It may seem a bit weird that I put the one character from 'From Russia With Love' that came up with the main villain plot of the film in the Dishonorable Mentions category but when you get down to it, Kronsteen doesn't actually really do anything in the film other than that. All he really does is play chess in his first scene and then comes up with the plan to have Bond steal the Lektor for SPECTRE (I just realized that rhymed) so that they can avenge the death of Dr. No. But after this scene, Kronsteen is not seen again until near the end of the film, after Bond and Tatiana have escaped from Istanbul and have basically foiled Kronsteen's plan altogether. Because of this, Blofeld has him killed via a poison-spiked shoe tip because 'SPECTRE doesn't tolerate failure'. I know that Kronsteen was in the original Ian Fleming novel that this film was based on but it could've easily gotten away without using this character at all and just have Rosa Klebb be the one who comes up with the plan. In fact, that's pretty much the case with the 2005 video game adaptation of 'From Russia with Love' as Kronsteen never appears once in that game. Now for the record, SPECTRE wasn't in the game either due to Eon's legal issues with Kevin McClory but that's beside the point. All in all, I know that Kronsteen is sort of a 'classic henchman' but when you really look at his role in the film, he's greatly overshadowed by Rosa Klebb and Red Grant.
HONORABLE MENTION
GOBINDA- OCTOPUSSY
Gobinda is one of those classic 'Oddjob/Jaws' kind of Bond henchmen; a big and intimidating brute. Admittedly I wouldn't go as far as to list him amongst the Top 10 because I do think these next ten henchmen are more memorable than him. However, he does get the Honorable Mention spot solely because of one hilarious moment during the finale of 'Octopussy' when Bond is pursuing Gobinda and Khan after the two have captured Octopussy and are escaping via plane. Just barely clinging onto the plane, Bond starts to disable one of the engines, prompting Khan to order Gobinda to go out and stop him, to which Gobinda replies 'Out there?' Up until now, Gobinda has been blindly loyal to his boss, like most Bond henchmen, but going out onto the top of an airplane as it is hundreds of miles in the air is something that he clearly did not want to do. But his boss commands him to do it so he just does what he's told. And as a result, he subsequently falls to his death in the process. Gobinda may not be the absolute best of the 'brute' Bond henchmen, but the lead-in to his demise is easily one of the funniest moments in the highly entertaining 13th Bond film.
10. NECROS- THE LIVING DAYLIGHTS
The one major downfall for Timothy Dalton's first Bond film, 'The Living Daylights', was that it had what were, in my opinion, the series' worst villains to date. I mean it's bad enough to have one lousy villain but this film had two and General Koskov and Brad Whitaker were both terrible antagonists, neither of whom made any sort of impression whatsoever. Thankfully the film's main henchman, Necros (Andreas Wisniewski), sort of makes up for this by being the most memorable Bond adversary of the film. A silent and straight-faced assassin, Necros is usually seen with a Walkman, which he sometimes uses as a strangulation device to kill some of his targets, listening to 'Where Has Everybody Gone' by the Pretenders, which was even implemented a bit into John Barry's score. Quite simply he was quite the foe for Bond to face, and he even made things a bit personal when he killed Bond's ally Saunders. But Bond ends up defeating him in the end during a pretty entertaining action sequence where the two of them are hanging off of the holding net of a cargo plane while it's up in the air, sort of just like the finale of 'Octopussy'. Bond ends up defeating Necros by cutting off the laces of his boot, which results in the henchman falling to his death while still holding onto the boot ("He got the boot!").
9. MR. WINT AND MR. KIDD- DIAMONDS ARE FOREVER
Sean Connery's last official Bond film 'Diamonds Are Forever' is by no means my favorite Bond film. In fact, it's pretty much near the bottom for me when it comes to ranking all of Eon's Bond films, but it did have a memorable duo of henchmen in the form of Mr. Wint (Bruce Glover) and Mr. Kidd (jazz musician Putter Smith). It wasn't until after I saw 'Diamonds Are Forever' for the first time that I realized that these two were the inspiration for the duo of Mr. Wink and Mr. Fibb from one of my favorite shows growing up, 'Codename: Kids Next Door'. But anyway, these two are perhaps the biggest standouts of the film, delightfully quirky and capable of eliminating their targets in quite a number of unique ways, from scorpions to time bombs to sealing Bond in a coffin and sending it to the crematorium. These two also have solid camaraderie with one another, as they constantly trade quips after each kill. After all, in both the novel and the film, they're implied to be lovers. Just look at when Kidd remarks at how Tiffany Case is attractive but then also says 'for a lady' after Wint gives him a dirty look. 'Diamonds are Forever' is a Bond film that just cannot be taken seriously but in the end, these two end up being one of the high points of a mediocre Bond film. On that note…
8. MAY DAY- A VIEW TO A KILL
After two viewings, 'A View to a Kill' is easily my least favorite Bond film out of all of the 23 films in the official series. Roger Moore's way too old for the role of Bond, Stacy Sutton is easily the worst Bond girl in franchise history, and the film blatantly uses a lot of stunt doubles, especially during the action sequences. But then again what do you expect when your lead actor is 57 at the time of shooting? But on the bright side, the film does benefit from having a solid pair of main villains. Max Zorin is a fun over-the-top villain played by the king of over-the-top performances, Christopher Walken. And then there's Zorin's equally over-the-top henchwoman, May Day, played by Grace Jones. Seriously, May Day is one crazy henchwoman and remember what I said earlier about Moore being way too old at this point to be Bond? Well that leads into one of the most awkward seduction scenes of all-time involving Bond and May Day. But May Day also has the distinction of changing sides at the end after Zorin betrays her by leaving her to die when he floods his mine as part of his plan to destroy Silicon Valley. After helping Bond remove one of Zorin's explosives, May Day nobly sacrifices herself by pushing the bomb out of the mine where it then detonates. It's one of the best moments of the film and, like Wint and Kidd in 'Diamonds are Forever', May Day is one of the few great parts of what is, in my opinion, the worst of the Bond films.
7. RED GRANT (FROM RUSSIA WITH LOVE)
During the last Bond Month, I labeled Red Grant as a 'main villain' when I listed my Top 5 favorite Bond villains, where I had Rosa Klebb and him ranked at the Number 4 spot. Admittedly now I recognize that he ultimately is the 'main henchman' of the film and so that is why he lands a spot in this list. He was the first major 'true equal' to Bond in terms of physicality and immediately proves it in the pre-credits sequence where you think he kills Bond but then we learn that it was only a 'test' and that the person he killed was just a double. We then proceed to see him tail Bond all around Istanbul for the first half of the film while actually serving as a 'protector' for Bond so that he can acquire the Lektor without much incident. Once he and Bond truly come across each other, that's when he really shines. The fight sequence between the two of them on the train is easily one of the most iconic moments in franchise history. And it's built up pretty well as Grant initially poses as an ally of Bond before finally revealing his true intentions; to kill Bond and deliver the Lektor to SPECTRE (again, that rhymed). The Bond series has seen plenty of memorable henchman over the years but Red Grant will always be the original archetype that inspired many of those other classic adversaries.
6. IRMA BUNT (ON HER MAJESTY'S SECRET SERVICE)
Irma Bunt killed Tracy Bond… seriously, I don't need to go any further than that... and that is why Blofeld's Assistant from one of my Top 5 favorite Bond films lands the Number 6 spot on this list.
5. FIONA VOLPE (THUNDERBALL)
Not only is Luciana Paluzzi's Fiona Volpe one of the most gorgeous Bond girls in franchise history, but she is also arguably the best part of 'Thunderball', an admittedly rather lackluster follow-up to Sean Connery's first 3 Bond films. Aside from a prolonged run-time, which was primarily due to the film's overtly dragged-out underwater sequences, one of the biggest downfalls of the film was its main antagonist. Emilio Largo was a pretty mediocre main villain and he didn't have any notable henchman outside of Volpe. Seriously, the only thing his other 'main' henchman Vargas was noteworthy for was his death via spear gun to which Bond quips, "I think he got the point" But as for Volpe, she was the series' first true femme fatale and absolutely lit up the screen whenever she appeared. She's a badass henchwoman with a badass missile-launching motorcycle to boot. While she does kidnap Bond at one point, Bond does manage to get out of the situation by escaping to a local nightclub during Junkanoo and directing her into the path of a bullet fired by her own henchman while they're in the middle of a slow-dance. It's one hell of a way to go for not only one of the most beautiful Bond girls of all-time but also the biggest standout of 'Thunderball', which is more than I can say for the other villains in the film.
4. KANANGA'S HENCHMEN (LIVE AND LET DIE)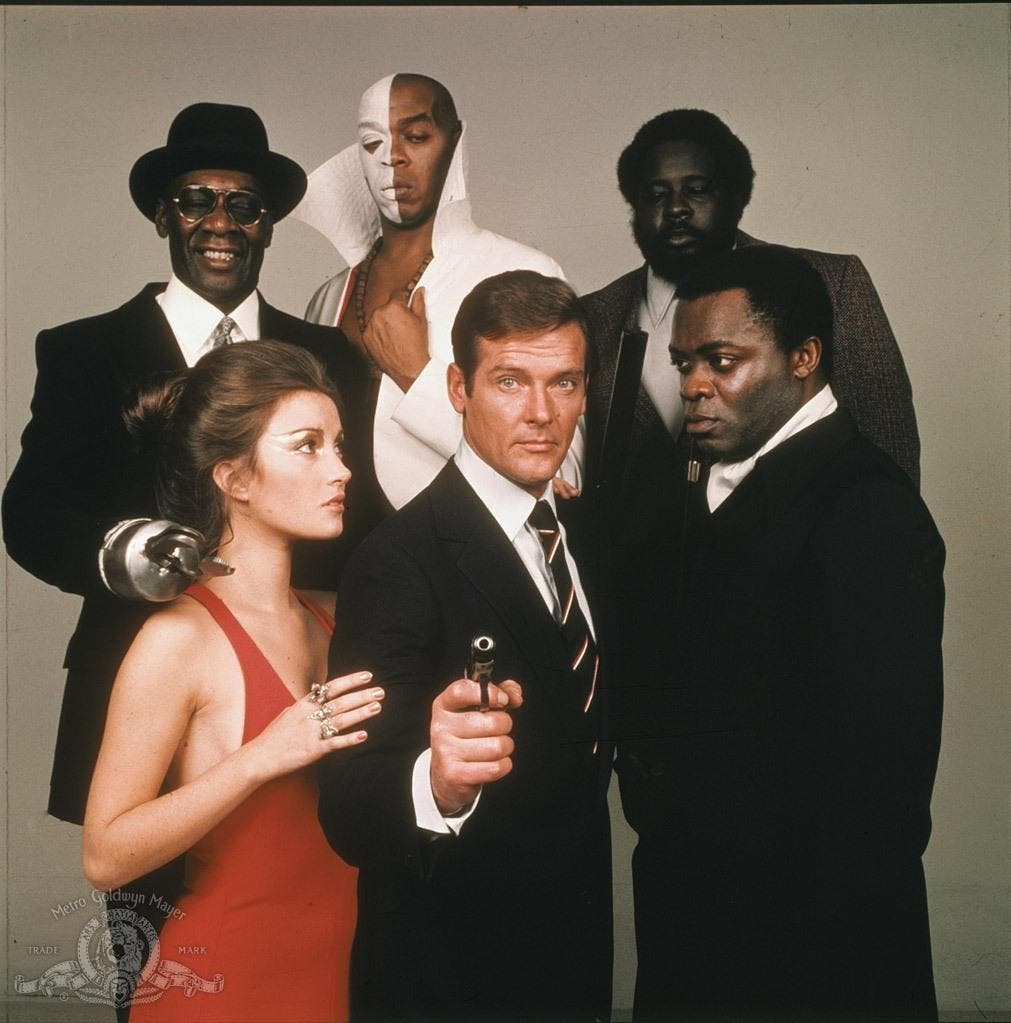 Okay I'm kind of cheating here with these next two spots as I couldn't just pick one henchmen from each of these next two films as I feel that these are two of the series' best villain ensembles. First up is Roger Moore's first Bond film, 'Live and Let Die'. Admittedly, this film can be rather awkward to watch sometimes from a modern perspective as it's basically a Bond Blaxploitation film complete with racial epithets and stereotyping. But despite this, the film does manage to have a pretty damn memorable cast of villains led by drug lord Kananga. While the reveal that Kananga has a second identity as gangster Mr. Big is pretty darn obvious, Yaphet Kotto does a great job in making Kananga a pretty darn intimidating villain and he has a great set of henchmen to back him up. There's the pincer-handed Tee Hee, played by Julius Harris, who's an equally intimidating enforcer for Kananga who isn't defeated until the end of the film when Bond throws him out of a train window. And then there's arguably everyone's favorite character from the film, Baron Samedi, played by Geoffrey Holder. Samedi is both cool and mysterious, being tied to the Voodoo occult while also appearing to be a very supernatural and seemingly immortal being. While it does seem that he is killed by Bond during the finale by being thrown into a coffin full of snakes, the film ends with him riding on the front of the train that Bond and Solitaire are on, a strange ending to a classic Bond film filled with a classic group of villains.
3. ALEC TREVELYAN'S HENCHMEN (GOLDENEYE)
But if I were to pick the best villain ensemble in the franchise, I'd argue that this honor would go to 'GoldenEye' because damn does this film has an amazing group of villains. They're all led by one of Bond's best main villains, Alec Trevelyan, a very personal villain for Bond given the fact that he was once his friend and fellow MI6 agent 006. But after seemingly being killed in 1986, Trevelyan suddenly pops up again nine years later and is revealed to be the mysterious head of the Janus crime syndicate. Like Kananga, he also has a highly memorable group of henchmen. There's the 'original' main villain General Ouromov, who I'll concur with YouTube Bond reviewer Calvin Dyson in that he's a pretty damn underrated henchman as Gottfried John more than holds his own against the other villains in the film. There's also Alan Cumming as programmer Boris Grishenko. Sure Boris is a pretty damn goofy character but in a fun way. And who can forget his classic catchphrase 'I Am Invincible!' whenever something goes right for him? Though ultimately he isn't invincible at all as he gets frozen by liquid nitrogen following the destruction of the Cuban satellite dish controlling the GoldenEye satellite.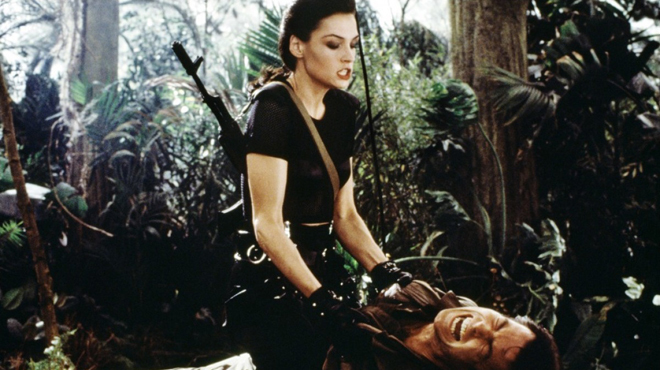 And of course, there's arguably the best character in the entire film; Xenia Onatopp, played by Famke Janssen. Like May Day, Onatopp is a crazy henchwoman. Seriously she's borderline psychotic. She kills people while having sex with them by suffocating them to death with her thighs. It's clear that not only is she a major sadist, but that she also gets extreme sexual satisfaction out of killing people. Just look at the scene where she kills a bunch of workers at Severnaya and starts breathing heavily afterwards. The look on Ouromov's face when the film cuts back to him is priceless. Well, it's like Bond says, 'she always did enjoy a good squeeze' and quite frankly Xenia is the last major Bond femme fatale, that wasn't a main villain for the record (in this case Elektra from 'The World is Not Enough' doesn't count), and even arguably the last great Bond henchman to date. All in all, 'GoldenEye' had a terrific ensemble cast in general from Pierce Brosnan to Izabella Scorupco to Judi Dench. And of course, it had one hell of a villain ensemble, highlighted by main villain Trevelyan and his insane main henchwoman Xenia. But that doesn't mean we should forget about the other henchman in the film, Ouromov and Boris. That's one of the many reasons why 'GoldenEye', the first Bond film that I ever watched, is still one of my all-time favorite entries in the entire series. You can't go wrong with this quartet of villains.
2. JAWS- THE SPY WHO LOVED ME/MOONRAKER
Okay I'll admit it… these next two picks are going to be completely obvious to anyone who is a fan of this series. But really, can you blame me? Because these next two truly are the series' most iconic henchmen. So with that said, why is Jaws, who may arguably be the most famous henchman in franchise history, only Number 2 on this list? Well, ultimately that's because of the fact that his role in his second film, 'Moonraker', isn't as strong as his first appearance in 'The Spy Who Loved Me'. In 'Spy Who Loved Me', Jaws immediately established himself as a truly intimidating and even rather scary villain with his set of metal teeth and hulking stature. While originally killed off in the initial script for the film, producer Albert 'Cubby' Broccoli suggested that Jaws survive the finale because he felt that the character would end up becoming very popular. Sure enough, test audiences loved this ending when it was first screened for them and Jaws was brought back again for 'Moonraker'. Though in this case, this might not have been the best route the filmmakers could've taken.
'Moonraker' was already a pretty darn silly Bond film as far as the franchise is concerned. After all, it is the one that sends Bond into space and was clearly made just to cash in on the success of films like 'Star Wars'. But Jaws just made the film even sillier because he wasn't really as intimidating as he was before. Now he was just played for laughs, like having him crashing into various things and getting out of them without even a scratch on him. They give him a girlfriend, Dolly, and he even ends up becoming a good guy by the end of the film. Now I don't really mind the ideas of Jaws having a girlfriend and becoming a good guy but because the film is so damn goofy, these scenes just come off as being very weird. The first time Jaws and Dolly meet is punctuated by that Tchaikovsky music you always hear in movies and TV shows whenever two characters fall in love. And at the end, Jaws even speaks for the first and only time in the series. It's strange but I will admit that it's still fun to see the character return. He may have been turned into a goofball in 'Moonraker' but that doesn't mean that he still wasn't memorable. Besides, at the end of the day, we'll always remember him as the truly intimidating brute from 'The Spy Who Loved Me'.
1. ODDJOB- GOLDFINGER
Ultimately it was due to the fact that Oddjob didn't appear in a second film and wasn't goofed up as a result that he ends up at the top of this list. The mute henchman of Auric Goldfinger is one bad guy you do not want to mess with. That's because by just throwing his razor-edged hat at you, you're pretty much dead if it hits you. As shown during one of the most iconic moments in franchise history, Oddjob is so strong that his hat can decapitate a stone statue, and even though the Mythbusters proved that this wasn't possible in real life, it's still a pretty badass scene. It was also very fitting to have a wrestler, Harold Sakata, take on this iconic role and he does a great job in capturing the character's silent but vicious ferocity. The final fight scene between him and Bond in Fort Knox is as classic of a fight sequence as you can get from this franchise, ultimately resulting in Bond killing Oddjob by using a loose sparking wire to electrocute him when he is trying to grab his hat after it gets stuck between a pair of metal bars. Because of his strength, his unique weapon of choice, and the final fight sequence between him and Bond, Oddjob is easily the series' all-time greatest henchman. Just remember not to choose him as a playable character in 'GoldenEye' for the N64 because otherwise your friends are going to get very, very angry at you.
NEXT WEEK: I list my Top 10 favorite James Bond opening title sequences.