There have been numerous 'Star Wars' games that have come out over the years. Many have been based on the films themselves while others have focused on original stories that, along with the books, TV series, etc., continue to expand the massive 'Star Wars' universe. There have been over 100 licensed 'Star Wars' games that have come out since the year 1979. And while LucasArts, the company that produced many of these games, is no longer an active video game developer following Disney's purchase of Lucasfilm, the company's legacy still stands thanks to quite a few of their biggest hits. Now obviously not all of the games have been 'good'. There have been some notable clunkers, like the poorly controlled fighting game 'Masters of Teras Kasi' or the infamous 'Star Wars Kinect' that featured the even more infamous 'Galactic Dance Off' mode that warranted a double take from any 'Star Wars' fan who caught a glimpse of it. But today, thankfully, we won't be looking at those games. Instead, I'll be listing my Top 10 personal favorite 'Star Wars' games. To be perfectly honest, when I was first planning 'Star Wars Month', I wasn't sure if I was going to be able to do a full Top 10 list for this topic because I hadn't played (or owned) many 'Star Wars' games at that time. But, thanks to a deal on Steam, I was able to buy a whole bunch of 'Star Wars' games for a good cost, effectively allowing me to actually do this post after all.
So before I begin, let me just lay out some quick disclaimers. Like I just stated, I haven't played every single 'Star Wars' game that has ever come out, either because I don't own them or because I don't have a really easy way of playing them (in the case of the latter, primarily if it was made for an older gaming system). This list only consists of the ones that I personally played, so if you don't see one of your favorites on here, that's basically the reason why. So no, you won't be seeing games like 'Empire at War' or the 'Super Star Wars' trilogy on SNES on this list. Also, due to certain complications that I've faced, which I'll be discussing momentarily, one certain critically acclaimed 'Star Wars' video game will only be listed as an Honorable Mention for that reason. And finally, like I always say whenever I do a Top 10 list, just remember that this is just my personal opinion and this is not meant to be a 'definitive' Top 10 list of the 'best' 'Star Wars' games. If you disagree with how I rank certain games, that's fine. Just please be respectful if you post something in the comments. So now that I've gotten all of that out of the way, here are my Top 10 personal favorite 'Star Wars' video games. But first, let me get that Honorable Mention out of the way.
HONORABLE MENTION: STAR WARS: KNIGHTS OF THE OLD REPUBLIC (2003)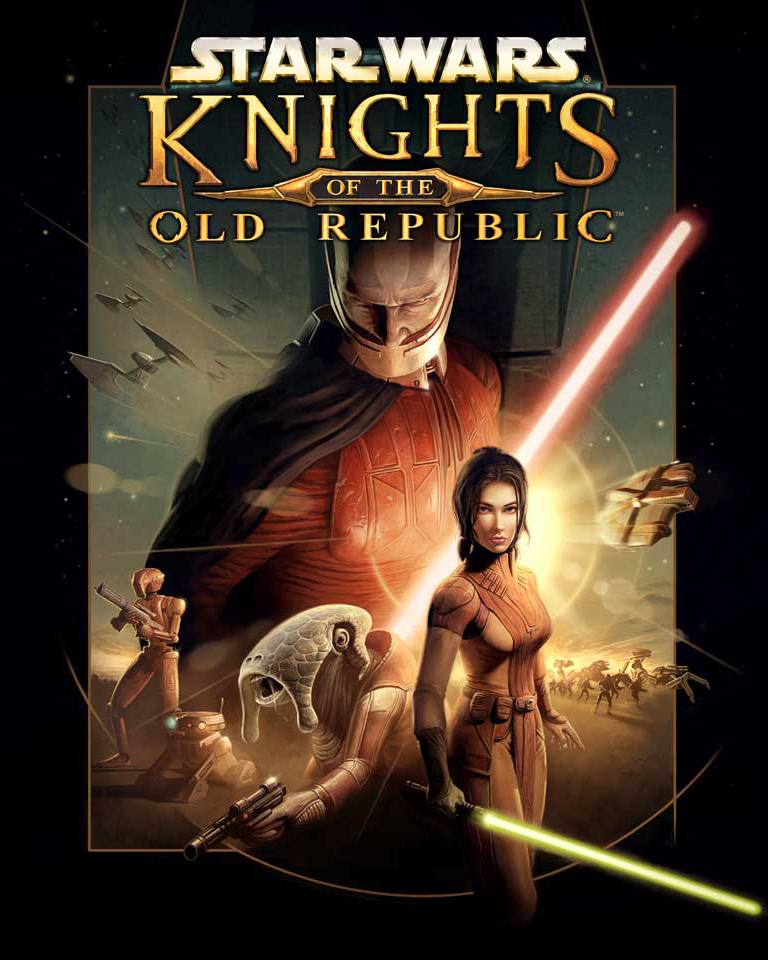 Before you say anything, let me explain why this critically acclaimed RPG from BioWare (the same studio behind the 'Mass Effect' series) is only an Honorable Mention. It isn't because I don't like the game, because I do. It's a well-crafted RPG with excellent visuals, incredibly memorable characters, an interesting story taking place in the age of the 'Old Republic' (4,000 years before the events of the prequels), and a well-balanced combat system. The reason why this isn't on my Top 10 list is simple… I haven't completed it yet and unfortunately there's actually a troubling reason for this. Once I got onto the planet Dantooine, where my character becomes a Jedi, the game's graphics really started to glitch up. I don't know why this is occurring nor do I know how to fix it, but the graphics become very erratic, producing a series of brown lines that frequently obscure the screen to the point where I can't even see where I'm going. To make matters worse, the game tends to crash at this point… this has happened to me quite frequently. So at the moment, I haven't really gotten that far into 'Knights of the Old Republic' and I haven't really played a lot of the sequel, 'The Sith Lords', either. If I hadn't been dealing with these graphical and crashing issues then I would assure you that this game would be near the top of my list. But unfortunately I have… so I can't go any higher than 'Honorable Mention'.
10. LEGO STAR WARS III: THE CLONE WARS (2011)
Starting in 2005, LEGO partnered with Traveller's Tales to create a new line of action-adventure video games featuring various licensed properties that the company owned, from 'Harry Potter' to 'Lord of the Rings' to Marvel and DC Comics. But this series first got started with arguably the company's biggest licensed property; 'Star Wars'. And in 2011, the third installment of the 'LEGO Star Wars' franchise was released; 'LEGO Star Wars III: The Clone Wars'. Based off of the hit animated series of the same name, 'LEGO Star Wars III' is similar in gameplay to the other installments of the franchise. Players progress through levels fighting enemies and solving puzzles. You can play as one of many characters from the 'Clone Wars' universe, each of whom have their own unique set of abilities. For example, Jedi can double jump and use the Force while non-Jedi characters can use their guns as grappling hooks to swing across platforms. The levels in the game are based around key episodes of Season 1 and 2 of 'The Clone Wars'. And after completing the game's story mode, you can go back and replay the levels in Free Play to collect all 10 of the Minikits in each level. Usually in these LEGO games, collecting all 10 Minikits in one level usually results in them being put together into an artifact related to the game's franchise, like vehicles in 'Star Wars' or ships in 'LEGO Pirates of the Caribbean'. But in 'LEGO Star Wars III', there is a little added incentive to collecting them this time as they will unlock classic characters from the franchise, including Luke, Han, Vader, etc…
Overall, 'LEGO Star Wars III' doesn't do too much different from its fellow LEGO games of the same nature, save for some new minor gameplay features along with a pretty neat graphical upgrade that actually results in more characters appearing on screen. Seriously, there are literally times where there is a whole army of droids on the screen at one time, which is a ridiculous but also pretty cool sight. Also, obviously because these games are geared towards a younger audience, these games are… fairly easy. Still, as someone who was a huge fan of LEGOs growing up and still generally is a fan of the brand, I enjoy these games for their charm and humor, the latter of which has been a staple of the franchise since 'LEGO Star Wars II'. The only thing that holds this one in particular back from being one of the best, though, is this rather annoying 'conquest' style mode of gameplay. Basically, similar to something like the 'Battlefront' games, the main goal in these levels is to capture enemy bases. Why is this the weakest part of this game? Because it takes forever to complete just one of these levels. You have to traverse a generally large battlefield, at a rather slow pace I might add, and destroy every single object occupying an enemy base. And you can't destroy them all right away because some are gold and silver objects that require different weapons to destroy them (e.g. rapid-fire guns to destroy gold objects, and 'large explosives' to destroy silver objects). To make matters worse, in some of these levels you have to beat them in a certain amount of time. In the end, though, 'LEGO Star Wars III' is another solid addition to this 'LEGO Star Wars' franchise despite some of its flaws.
9. STAR WARS: STARFIGHTER (2001)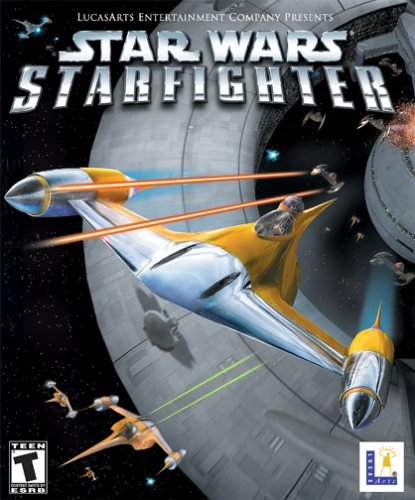 A pretty underrated entry in the library of 'Star Wars' games, 'Starfighter' is a space combat game similar to the 'Rogue Squadron' series. Its story mode, which takes place during the events of 'Episode I: The Phantom Menace', has you playing as three different characters; Naboo Corps pilot Rhys Dallows, mercenary Vana Sage, and pirate Nym, as they attempt to stop the Trade Federation from taking over Naboo. It's the same general premise of 'Rogue Squadron'. You fly around each level fighting waves of enemies completing objectives that range from destroying an enemy base to protecting cargo ships in escort missions. It's generally easier than 'Rogue Squadron'. I found that I was flying through (no pun intended) these missions pretty fast. But overall, it's still very enjoyable to play just like its more successful twin franchise. I played this one on the PC and the graphics were nicely polished (for the time, of course) and ran smoothly, which was good. The controls were solid and generally easy to follow and quite frankly it's just fun to fly a starship in the 'Star Wars' universe. I'm not going to do much comparisons to the 'Rogue Squadron' series though I think it's safe to say that you're probably going to get more out of those games than this one in terms of overall content. Still, if you manage to find this game somewhere for a good deal, I say it's worth checking out as it is a fun little entry in the 'space combat' genre.
8. STAR WARS: DARK FORCES (1995)
In all my years, I never thought that I would ever play a game from the MS-DOS era of computer games on a modern laptop… and yet that's exactly what I did with 'Star Wars: Dark Forces'. 'Dark Forces' is a first-person shooter in which you play as mercenary Kyle Katarn, who undergoes various missions for the Rebel Alliance. The game officially begins with him stealing the plans to the Death Star, a mission that is set to be the premise for the upcoming spin-off film 'Rogue One' albeit under a different scenario. Anyway, in this first installment of what would become a major video game series of the 'Star Wars' franchise, Kyle investigates into the development of a new line of cyborg storm troopers known as 'dark troopers'. Now obviously, the graphics have dated quite a bit in the 2 decades since its initial release. Still, in 1995, this probably might have been a landmark in terms of what computer games looked like at the time. Not only that, but this game has a pretty nice soundtrack utilizing the classic film music of John Williams. Nowadays, the game looks fine enough as is given the time it was made. The FPS gameplay is pretty solid though as far as the mission objectives in each level are concerned, at times it can be a pain in the butt just trying to figure out where to go. It also doesn't help that in certain levels you have to use night-vision goggles because you can't see s*** without them unless you waste some of your ammo. So in short, 'Dark Forces' is a pretty entertaining installment in the 'Star Wars' lore and a nice early entry in the FPS genre.
7. STAR WARS: SHADOWS OF THE EMPIRE (1996)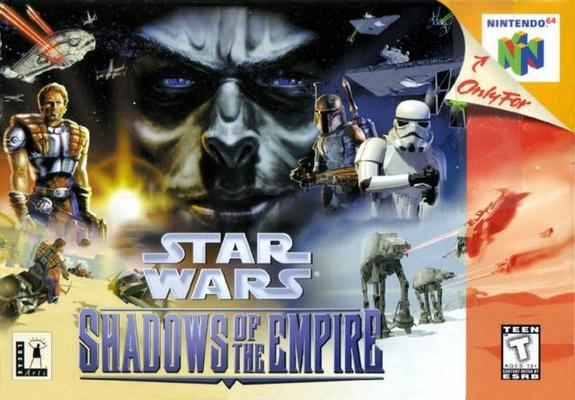 One of the very first games for the Nintendo 64, 'Shadows of the Empire' was part of a multimedia project, which also included a novel, a comic series, and a toy line, among other things, that was meant to test the possibilities of a feature film release through the creation of a storyline set in between the events of 'The Empire Strikes Back' and 'Return of the Jedi'. While ultimately a film adaptation of this story was never made, it did lead to the development of both the re-releases of the original trilogy in 1997 and the subsequent prequel trilogy. So in other words, I bet there are people out there who basically blame this whole project as being responsible for all of the 'bad things' about 'Star Wars' in recent years, namely the many changes made to the original films and the lesser quality of the prequel films. But because I've already talked about both of those things in previous 'Star Wars Month' posts, I'm not going to go any further into this and instead of the game. In it, you play as mercenary Dash Rendar who, after partaking in the Battle of Hoth, attempts to take down Prince Xizor, the head of a major crime syndicate who tries to get Luke Skywalker killed so that he can take Darth Vader's place as the Emperor's apprentice.
Like 'Dark Forces', 'Shadows of the Empire', which was only released a year later, has admittedly aged quite a bit. This third-person shooter's controls are pretty darn stiff compared to what we see nowadays; you can't even strafe to avoid enemy fire. Still, this game does manage to serve as a nice piece of nostalgia for both 'Star Wars' fans and someone like me whose favorite video game console is the Nintendo 64. Many have said that after this game's opening level, in which you pilot a snow speeder taking down AT-ATs (an awesome sequence, by the way), the game never really shines in anyway after that. I don't 100% agree with that as there are some really awesome things you do in this game after the first level. In the following level, you take down a frigging AT-ST by yourself without the use of a ship. And then later on in the game, you fight Boba Fett… and after you beat him, you fight him again only now he's in his ship, Slave I. Also in some levels you can fly around using a jetpack. So overall the game isn't 'a total letdown' after its undeniably awesome first level; it's just that, like 'Dark Forces', this genre has come a long way since then in pretty much every single aspect. But at the end of the day, 'Shadows of the Empire' is still pretty fun and did help pave the way for the future of 3-D gaming.
6. STAR WARS EPISODE I: RACER (1999) + STAR WARS: RACER ARCADE (2000)
N64 Version
While we all know how a lot of people were disappointed with 'Episode I: The Phantom Menace', one of the best moments in the film was the pod racing scene. And one of the best things that came out of this great scene was not one, but two great racing games in the form of 'Episode I: Racer' for home consoles and 'Racer Arcade' for, of course, arcades. Both games are pretty much the same thing; a 'Star Wars' pod racing-themed racing video game except the arcade version has you trying to complete the race before time runs out (basically the general concept of any arcade racing game). The arcade game only has four courses but utilizes a unique steering system with two levers that are used to both steer your podracer and to speed up and slow down. It's definitely a fun and simple arcade game and the same can be said for the home console version as well. This one doesn't have you complete the race under a time limit but it does offer more courses that vary in difficulty… and to put it quite simply, some of them are pretty darn challenging. You can also upgrade your podracer so that it will perform better in races using money that you can earn by winning races. You can even set the rules for how the money is distributed at the end. There were a lot of great racing games for the N64, including the 'Cruisin' games, 'Diddy Kong Racing', and of course, 'Mario Kart 64'. 'Star Wars Episode I: Racer' is another fine addition to that fine collection of N64 racing games.
Arcade Version
5. STAR WARS: ROGUE SQUADRON II: ROGUE LEADER (2001)
Now we move to the highly popular 'Rogue Squadron' series, which got its start in 1998 with the first installment of the series, simply titled 'Rogue Squadron', which was released for both the N64 and PC. But in this spot, we're moving ahead to the second installment, 'Rogue Leader', one of the launch titles for the Nintendo GameCube in 2001. This is ultimately because of one main reason; I think it's the better game (disclaimer: I have not yet played the third game in the series, 'Rebel Strike'). It's nothing against the original 'Rogue Squadron' as it is a really well-made space combat game. It's just that 'Rogue Leader' improved on some of the shortcomings of the first game. For one thing, being that it's on a more powerful console, the graphics run much more smoothly. But the biggest improvement is the addition of command controls, allowing the player to give instructions to their fellow pilots, which range from attacking certain targets to lining up in formation. This was not a feature of the first game where, to be perfectly honest, your wingmen really didn't help you that much in combat, meaning that you basically had to do all of the work by yourself, which is especially hard in missions where you have to protect convoys from enemies, which quite frankly made up quite a lot of the missions in the game.
Just like its predecessor, 'Rogue Leader' puts you in the shoes of both Luke Skywalker and Wedge Antilles as they partake in missions as part of the elite starship group 'Rogue Squadron'. The missions in 'Rogue Leader' follow the plot of the original trilogy films pretty darn well. Aside from some missions taking place on planets we didn't see in the films, other levels have you flying in the Battles of Yavin, Hoth, and Endor, attacking both Death Stars and taking down AT-ATs on Hoth. There's also a ton of cool bonus content to unlock in this game. Aside from the game's main 10 levels, you can also unlock some bonus levels in which you get to pilot the Millennium Falcon and, in some levels, even get to play as Darth Vader in attacks against the Rebels. You can also unlock new ships to use in the missions, including the Falcon and Boba Fett's ship, the Slave I. With a code, you can even turn one of the A-wings into a 1969 Buick Electra 225. Yes, you can actually fly a real-life car in space, which is definitely a pretty darn hilarious sight to behold. This was also a special feature in the first game though from what I've personally seen, it seems like trying to use it in the first game ends up causing it to crash… so you're much better off using it in the second game. And ultimately, due to some of the things that it does to improve on the first game, which let me reiterate is still a really fun game to play, I believe that 'Rogue Squadron II: Rogue Leader' is the best of the 'Rogue Squadron' games (that I've played).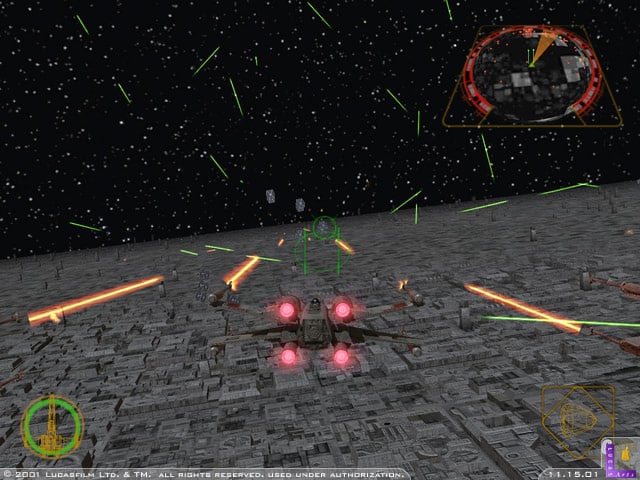 4. LEGO STAR WARS: THE COMPLETE SAGA (2007)
We now return to the world of 'LEGO Star Wars' as we look back at the first two installments of this franchise. In 2005, the first installment of the series, and first LEGO game produced by TT Games, 'LEGO Star Wars: The Video Game', had you play through the prequels. A year later, the sequel was released, 'LEGO Star Wars II: The Original Trilogy', this time having you play through, obviously, the original trilogy. Both games are pretty entertaining to play, but overall the second game was the better of the two. And no, I'm not saying this just because it is based around the original trilogy and not the prequels, a comparison that I've found that some critics have made in their reviews. It's just a case where the sequel improved upon the already solid first game, adding in new features such as the ability to build objects out of LEGOs, ride vehicles in the main story levels and, to put it bluntly, much stronger vehicle stages because the ones in the first game… were quite frankly the weakest part of the game. The sequel would also be the first in this line of LEGO games to bring a comedic spin to the game's Story Mode cut-scenes, which became a trademark of TT Games' LEGO video games. Another year after the release of 'LEGO Star Wars II', a third game was released but this time instead of it being a brand new game (that wouldn't come until 2011), it combined the two previous games together into one, resulting in 'LEGO Star Wars: The Complete Saga'.
Now I did own both 'LEGO Star Wars' and 'LEGO Star Wars II' before owning 'The Complete Saga'. And with that said, there's really not much of a reason to buy 'The Complete Saga' if you've already owned the first two games. They basically just combined the two games into one without really changing any of the levels that much. Sure, they added in the new features from the sequel to the levels of the first game, but they still maintain the same general layout. There's only two new levels introduced that were previously cut from the first game; this includes a level where young Anakin accidentally ends up participating in a starship battle against a Trade Federation ship in 'Phantom Menace' and one in 'Attack of the Clones' where you chase bounty hunter Zam Wesell through Coruscant (it should also be noted that in the first game, 'Attack of the Clones' had the least amount of levels, with only five compared to the six levels for both 'Phantom Menace' and 'Revenge of the Sith'). But if you haven't played the first two games, then I recommend you go for this one as, to put it quite simply, it offers the most content. And as I just noted earlier, it updates the levels from the first game by implementing the great new features of the second game. And ultimately, that's why 'The Complete Saga' is the best of the 'LEGO Star Wars' games; it has the most to offer for anyone who hasn't already bought the first two games. But as I noted earlier, if you already have the first two, you don't need to buy this one.
3. STAR WARS TRILOGY ARCADE (1998)
And now we're heading back into the arcades with one of my all-time favorite arcade games, 'Star Wars Trilogy'. Following in the footsteps of 1993's 'Star Wars Arcade', this game puts you right in the middle of iconic moments of the original 'Star Wars' trilogy, from attacking the Death Star in 'A New Hope' to taking down AT-ATs on Hoth in 'The Empire Strikes Back' to speeding through the forests of Endor in 'Return of the Jedi'. Not only that, but if you complete those missions, then you get to duel with Darth Vader on the Death Star and fight Boba Fett on Tatooine. This on-rail shooter had excellent/solidly responsive controls and a great overall presentation in the main missions, perfectly capturing the feel of these iconic 'Star Wars' moments. The controls are a little clunkier when you get to the light saber sections of the game (in other words, the Vader and Boba Fett boss fights) but it's still pretty cool to fight two of the most famous villains in the 'Star Wars' universe. All in all, 'Star Wars Trilogy Arcade' is the best of the 'Star Wars' arcade games (that I've personally played_ and if you're able to find it somewhere, which I'm guessing is rather harder nowadays given the decline of arcades and the implementation of newer games in any arcades that are still around, then be sure to give it a go because it's not only one of the best Star Wars games ever but also one of the best arcade games period.
2. STAR WARS: JEDI KNIGHT- JEDI ACADEMY (2003)
While I have the feeling that many prefer 'Jedi Knight II: Jedi Outcast', I haven't played much of that game so instead I'm going with its sequel, 'Jedi Academy', the fourth installment in the 'Jedi Knight' franchise that originally started with the previously listed 'Dark Forces'. In this installment, you play as a new Jedi in training named Jaden Korr who undergoes various missions fighting members of a Sith Cult known as 'The Disciples of Ragnos'. I mean, I basically just listed the main reason why this game is so awesome already. You get to be a Jedi training under both Luke Skywalker and Kyle Katarn. You get to build your own light saber and also get to acquire special force powers, some of which are tuned to the 'light' and 'dark' sides of the Force. What 'Star Wars' fan wouldn't want to do that? Now admittedly the game can get a little repetitive at times due to the numerous amount of missions you have to play through, most of which don't really seem to be too connected to the story that much. That and it feels like this game really likes to do missions set in a desert location… a lot. But the fact that you're playing as a badass Jedi more than makes up for it. I haven't played any of the game's multiplayer yet but it looks fun enough, especially considering that there's a mod out there on the internet that allows players to play through key set pieces of the 'Star Wars' films called 'Movie Battles'. So in short, 'Jedi Academy' is another awesome addition to this solid set of games that make up the 'Jedi Knight' series.
And finally, Number 1…
1. STAR WARS: BATTLEFRONT II (2005)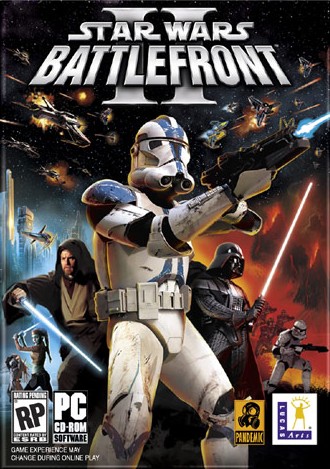 I've only played the original 'Star Wars: Battlefront' once and even then it was only for a few minutes. However, I've played its sequel much more, so much so that I actually have it for both the PS2 and PC, though at the end of the day I mainly recommend the PS2 version. 'Battlefront II'… is just straight-up fun. You get to partake in large-scale 'Star Wars' battles as one of four factions; Galactic Republic, Separatists, Rebel Alliance, and the Empire, on one of the many planets of the 'Star Wars' universe, from Hoth to Endor to Dagobah to Coruscant and so on and so on. There are quite a few game modes to play through, including Capture the Flag, Hunt, and Conquest, but basically the primary goal is to destroy all of the enemy soldiers in a battle before they take out all of your soldiers. In Conquest Mode, that primarily consists of you, using six different types of soldier classes per faction, attempting to capture enemy bases while your opponents try to capture your bases. If one side captures all of the bases on the battlefield, then the battle will end after a few minutes. If that doesn't happen, whoever takes out their opponent's entire force of soldiers will win. While 'Battlefront II' maintains the same general premise/gameplay as its predecessor, this is a case similar to 'Rogue Squadron II: Rogue Leader' and 'LEGO Star Wars II' in that it ends up being the better of the two thanks to the great new additions to the already rock solid gameplay.
First off, there's the additional gameplay modes added in including Capture the Flag and Hero/Space Assault modes, which adds some welcome variety to the game's multiplayer mode. Speaking of heroes, this game also includes a special class that allows you to use iconic characters from the franchise, from Luke Skywalker, Han Solo, and Obi-Wan Kenobi to Darth Vader, Darth Maul and Darth Sidious. This was a feature of the first game but it was very limited in execution as you could only play as one specific hero per faction. The single-player campaign mode is much more story-driven than the first game as you play as members of the 501st Legion of Clone Troopers who take on various missions for the Republic and, later on, Galactic Empire. Aside from that, the same primary single-player modes from the first game return as well, including 'Galactic Conquest', in which the player commands their fleet through the galaxy and tries to take control of planets and then protect them if the enemy tries to take control for themselves, and 'Instant Action', which pretty much speaks for itself. But probably the best new addition to 'Battlefront II' are the Space Battles, in which players try to destroy enemy ships. You can destroy key parts of the enemy ship and even fly into the enemy hangar to try and sabotage the ship's internal systems. This may just be my favorite part of the game.
A decade after the release of 'Battlefront II', this popular franchise is set to make a comeback in the form of 'Star Wars: Battlefront', developed by DICE, the company behind the 'Battlefield' series, and set to be released this November. Because I'm a big fan of 'Battlefront II', I'm looking forward to this new game but there are a few things that make me worried about it. The first is that DICE previously attracted quite a lot of controversy when the initial release of 'Battlefield 4' was plagued by numerous bugs and glitches. But perhaps the biggest glaring issue is the severe lack of content compared to the previous game. There are going to be less maps than the previous games and will only feature four planets, not counting the planned DLC pack including the planet Jakku, which will be introduced in 'The Force Awakens'. There isn't a Campaign Mode, Galactic Conquest, or Instant Action mode and you can only play as characters from the original trilogy era of 'Star Wars', not the prequels. And finally… no space battles. This is an unfortunate example of current practices of the gaming industries, in which full-priced games are being released with questionable amounts of content probably due to publishers rushing the game's development time so that it can be released at a certain date. Hopefully the gameplay will be on par with 'Battlefront II' because as of right now, I have to admit that I'm very, very hesitant about this game.
Yep... not very promising...
So that's the last of my 'Star Wars Month' posts this May. There will be an extra post by Matt in the next few days in which he'll list his own personal Top 10 favorite games but this is the last major 'Star Wars' post from me until my review of 'The Force Awakens' when it comes out in December. I'd personally like to thank all of you for joining me on this month-long look-back on this iconic franchise that many of us love so much. And of course…